The ARB SpaTeak Fiji Teak Corner Shower Bench with Shelf crafted from all natural teak wood. Maybe you find sitting while bathing more practical or perhaps you just want to take some time to relax in your shower, With this durable and roomy bench, you can enjoy a sturdy place to sit in your bathroom. The bench doubles as a storage shelf on the bottom open section, you can easily stash toiletries, sponges and other bathroom accessories. whatever your reasons for wanting a place to sit in the shower the ARB Teak's Fiji corner bench should fit your need.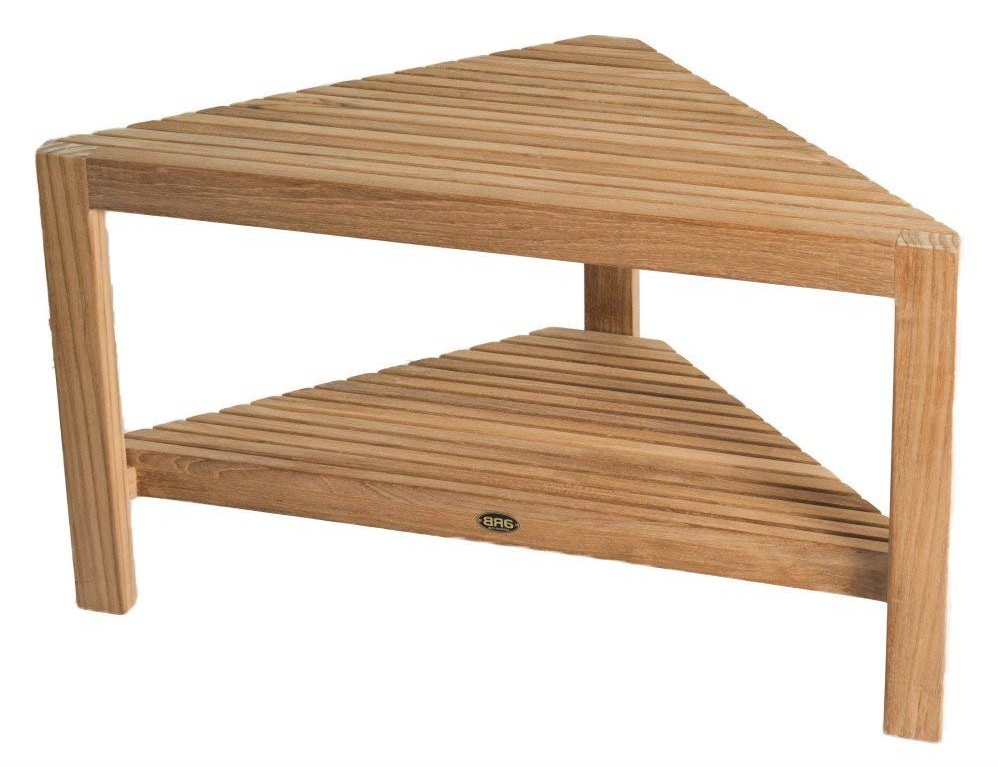 This compact three-legged shower bench will fit neatly into the corner of all but the smallest showers, therefore it would be tough to find a room that wouldn't welcome its natural-wood finish and clean lines.
Dimensions: 31.5L x 15.75W x 17.75H in.
Constructed of wood
Appealing natural finish
Solid grade A plantation teak
High natural oil content resists mold
If you're looking to create a more spa-like space. ARB Teak  makes and sells larger benches, also other teak bathroom accessories
Specialties Shower Foot Rest
Get a leg up in the fight against whiskers with the arb teak small corner foot rest, a convenient shower accessory crafted from solid grade A plantation teak, a famously strong and durable hardwood. The high oil content of this handy teak bench provides natural resistance against mold and moisture, so you can shower, shave, and get on with your day with a minimum of maintenance and fuss.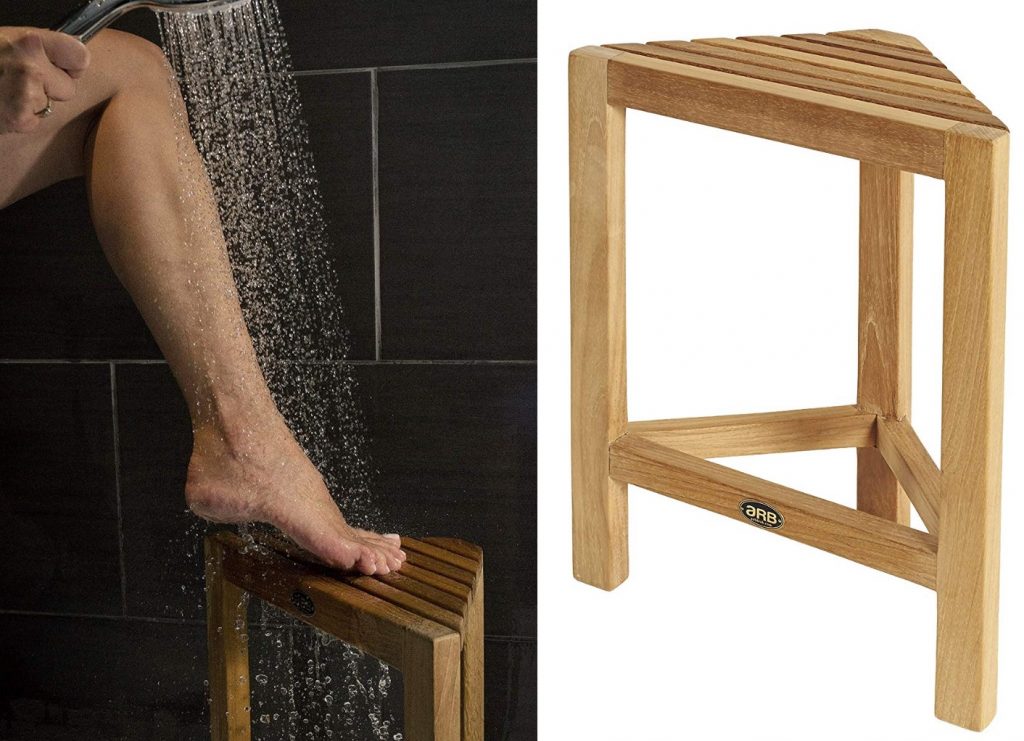 About the product
Dimensions: 14.5 inch x 7.75 inch x 17.75 inch
Solid grade A plantation teak wood bench
Natural oil content resists mold build-up
Natural finish suits any bathroom decor
No assembly is required
Arb Teak & Specialties Teak Shower Base Mat
Solid Natural Grade A Plantation Teak, high in oil content making it resistant to mold build-up

No need to apply the oil – Only scrub occasionally to remove soap residue

Teak has an extremely dense grained hardwood with a beautiful rich golden color

No assembly required – ready to use

5 Year Warranty against warping and cracks

No visible hardware
It comes in three different sizes:
30″ x 30″ Teak Shower Base Mat

24″ x 14″ Teak Shower Base Mat

20″ x 14″ Teak Shower Base Mat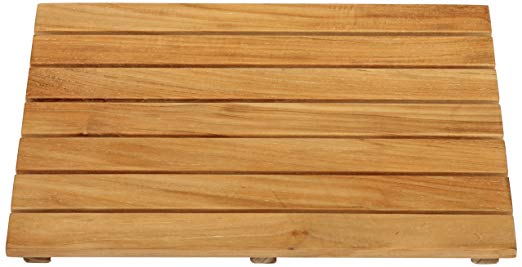 35.4 inches Arb Teak & Specialties Coach Teak Shower Bench with Shelf
ARB Teak & Specialties is a premier manufacturer and distributor of luxury teak products. They specialize in custom-made furnishings designed to enhance the beauty of your indoor and outdoor living spaces.
Their exceptional design and unparalleled quality have made them a preferred destination for all your teak needs. Their products made from responsibly harvested grade "A" teak and dried to perfection and beautifully finished. They use only the highest quality hardware made from solid brass and stainless steel, guaranteed never to rust. Teak is an extremely dense grained hardwood with a beautiful rich golden color.
The Characteristics of teak include strength, durability, and resistance to insects, rot, and decay. It has high oil content, which continually preserves the wood and makes it perfect for wet/dry applications. ARB Teak furniture is designed to last a lifetime. Their fine furniture handcrafted by the best Indonesian artisans. Native to the tropics, the teak tree is commonly found in southeast Asian nations, most commonly, Indonesia.
There are few that take their teak more seriously than those in Indonesia. The government has been dedicated to managing the country's most valuable natural resource through official teak plantations. Each year a pre-determined number of trees are cut and replaced by new ones planted in their place.
For furniture, you will enjoy for a lifetime and beyond, ARB Teak has everything you need to make your indoor or outdoor space beautiful. This solid teak shower bench with a flat top is ideal for a wet environment. The wooden slats on top can withstand constant water flow, allowing it to drain for faster drying. Shower bench dimensions are 12.13 inch x 35.4 inch x 17.8 inch
.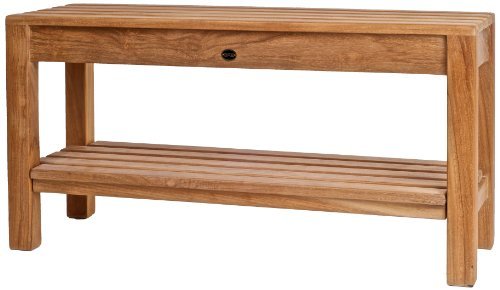 47″ Arb Teak & Specialties Coach Teak Shower Bench
This ARB solid teak shower bench with a flat top is ideal for a wet environment because it made from responsibly harvested grade A teak then dried to perfection and beautifully finished; Teak has an extremely dense grained hardwood with a beautiful rich golden color. Teak shower bench comes fully assembled; Solid teak bench with sturdy legs measures 12.13 inch x 15.75 inch x 17.75 inch and weighs 11 pound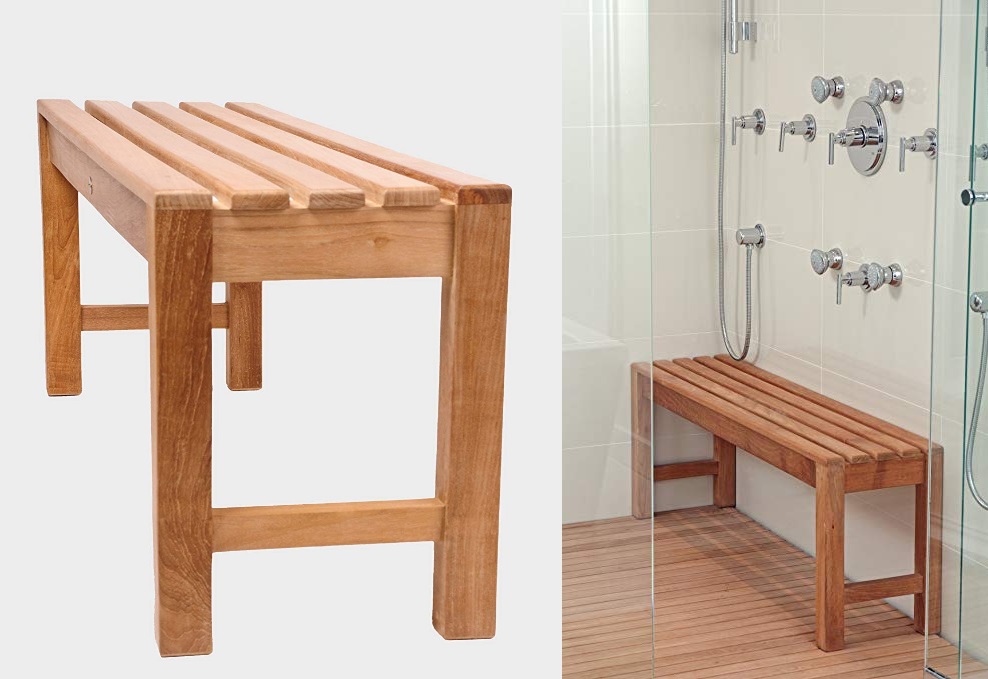 Thee are many nice Teak furnitures from ARB. See the best deal and Price here
More…
Find the Best Holidays Sale on Teak Shower Furniture