If you're in the market for a shower bench that is both stylish and durable, the DecoTeak Eleganto Classic Shower Bench is worth considering. This shower bench is made from high-quality, solid teak wood and boasts a contemporary design that will complement any bathroom décor. With its comfortable seat, convenient shelf, LiftAide handles, and adjustable foot levelers, this bench is a perfect choice for anyone looking for a safe, sturdy, and comfortable shower bench.
The Compact Contemporary Design
The DecoTeak Eleganto Classic Shower Bench features a sleek and modern design that sets it apart from traditional shower benches that can be bulky and take up a lot of space. This bench's unique design provides both comfort and functionality, with a comfortable seat and a shelf that provides extra storage for your shower supplies. The shelf is a standard utility shelf that is perfect for holding items like shampoo, conditioner, soap, and other toiletries, making it easy to keep everything you need within reach.
LiftAide Handles for Safe Ergonomic Support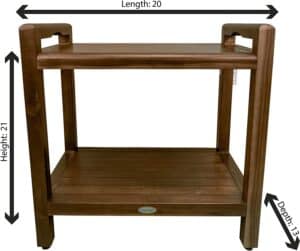 The LiftAide handles located on either side of the seat offer secure and comfortable ergonomic support to assist with moving from a seated position to a standing position, making this shower bench a great choice for people with mobility issues. These handles provide extra support when you need it, helping you get in and out of the shower safely and easily. They're also designed to be comfortable to grip, so you won't have to worry about straining your hands or arms when using them.
Adjustable Foot Levelers
In addition to its compact contemporary design, the DecoTeak Eleganto Classic Shower Bench also features adjustable foot levelers. These foot pads facilitate effortless height adjustment of the bench to accommodate sloping shower floors. This ensures that you always have a level surface to sit on. This feature is particularly useful for people who have uneven shower floors, and need to adjust the height of the bench for different users. The foot levelers are easy to use and can be adjusted quickly and easily, giving you complete control over the height of the bench.
Superior Quality Solid Teak Wood Construction
The DecoTeak Eleganto Classic Shower Bench is built to last and is made from superior quality solid teak wood. Teak furniture stands out as a superior option compared to other natural wood and bamboo furniture due to its high density and high teak oil content, which helps them to perform much better in environments with high levels of moisture. This means that the DecoTeak Eleganto Classic Shower Bench will look great and last for years to come, even with frequent use in a moist environment.
Proprietary Coating Process for Longevity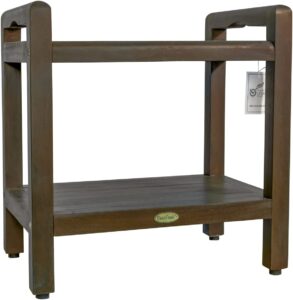 To ensure the teak finish's durability and resistance to moist environments, the DecoTeak Eleganto Classic Shower Bench features a proprietary coating process. This coating process provides water repellency and finish longevity, making the shower bench even more durable and long-lasting. This proprietary coating process is a testament to the quality and attention to detail that goes into the manufacturing of the DecoTeak Eleganto Classic Shower Bench.
Woman-Owned Enterprise
The DecoTeak Eleganto Classic Shower Bench is made of teak wood and manufactured by DecoTeak. This certified woman-owned company prioritizes quality, value, and customer service. The company's mission is to enhance the quality of people's lives by offering beautiful and functional designs that add both style and safety to their homes. As part of the commitment to social responsibility, They are proud to provide employment opportunities to women living in rural villages on the island of Java, Indonesia. By purchasing the DecoTeak Eleganto Classic Shower Bench, you're not only getting a high-quality product, but you're also supporting a company that is making a positive